WINTER JOURNEYS ON THE SNOWY PLAINS
By "Samford" (G.W. Kenyon)
Article from INTO THE BLUE
Coast and Mountain Walkers of NSW No 24, December 1942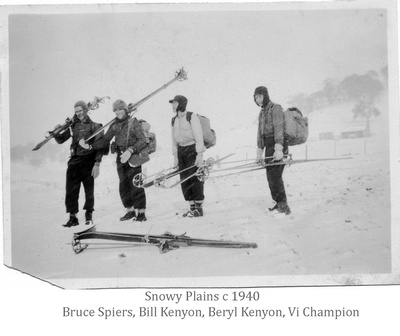 It is easy to understand why the Alps, at all times of the year, attract anyone with a mind for the hills. They are different in every season, and enjoyable almost to the same extent. While travelling on ski over a white land is a grand experience, once can, even at this time, think fondly of those snow abandoned uplands in Summer, rich green ridges splashed with Alpine flowers. This story, however, concerns the alps in August – glittering against deep blue skies, - of white hills and white trees, of silent journeys through the forests, of driving wind, snow and sleet.
Our need for a holiday was increased somewhat by a nerve-racking journey from Berridale to Snowy Plains on a rattling, swerving wood-carting truck, loaded to capacity with fifteen skiers, each with rucksacks and ski. Ten of this load formed a party bound for the Alpine Hut, from which we parted at the Gungarlin River. We were glad to have the assistance of friends from Rocky Plains at this stage, who packed our rucksacks on their saddle horses, leaving us only with skis, a sack of bread and a few odds and ends to carry for the couple of miles to our hut. There was very little snow nearby, so next day, again with the assistance of our friends and their horses, we travelled a further four miles North to another hut, and were gratified to feel, as we progressed, our boots crunching on ever deepening snow. Finally we were obliged to put on ski and travel thus for the remaining half mile. This journey was delightful for the ever changing views of the Main Range, the Bulls Peaks and the Bogong. Always these snowy heights were framed by nearby snowgums and muzzlewoods, and the ridge which we followed was green and white, open and forest covered in turn.
Our red hut stood out against a snowy spur side patterned with snowgums, and close to a healthy creek. It suggested immense peacefulness, of seclusion from a troublesome world in which we had participated a few days ago, and which would read its papers and rattle to work during the next week while we drifted in serenity of these high plains. The remainder of the day was well spent in practice on the slopes near the hut, which continued until well after dusk on the now firm snow. A nearly full moon rose early, generating in the smooth ridges a luminous silver. No longer did we run roughly, but flew silently, scarcely touching it seemed, the dim curving mantle over which our ski flashed.
The thickly grassed plains around the Gungarlin were free from snow, but the ridges were deeply covered. Some hours were spent one afternoon in a journey along splendid timbered ridges to the foot of the Munyang Range. Had time allowed, we would have climbed up on to the extensive snow fields of the main alps. But other days were ahead for this. Our ski ran fast on the hard snow of late afternoon, on the way home, and a pleasant trip was concluded by a glorious swoop on the end of the ridge. The swerve at the foot, designed to avoid a flight into the creek, claimed a few victims, evidenced by spurts of snow and a whirlwind of limbs and ski.
Most of us were feeling confident of attempting a proposed Journey to Jagungal, or the Big Bogong as it is locally known, some eight miles away and 2,000 feet above the plains. Talk and threats of its difficulty seemed to encourage everyone rather than deter, but seven in all, after having wished hard for good weather, set off one fine morning leaving Beryl and Esther to hold the fort and practice on nearby ridges. A mile or so were covered on foot, ski being fitted as soon as we were on the ridge. This proved a long yet consistent one, finishing on the Main Range in a graceful sweep of snow. As we panted over the last pinch, we were confronted with a glorious aspect of the Bogong standing proud and white above a wide snowy waste, a scene to encourage a feeling of Julius Kugy when he asked "Was this but the influence of the silver radiance around, or of excess joy which sand within me?" – "I stood over the vast abrupt, in the luminous heaven, on this small white island of my hard won summit." With seeing The Bogong, part of our aim was fulfilled, but we moved on, ran down to and crossed the Doubtful River by a deep snow bridge ribboned with glacier blue cracks. A solid mass settled as I gained the far bank, not encouraging Bruce who had to follow and at this time became unhappy at the likelihood of an exhilarating swim. There were foxes on the next ridge, two of which came up at a gallop to Tom's whistle. One was a stone's throw away before seeing us, clear though we must have been in the open. A sudden stop, a stare, and he was off as fast as his wiry legs could carry him.
The Bogong foothills were steep in places. Even with sealskins it was heavy work following Dudley, John and Tom as they herringboned up swiftly on bare ski. Snow had commenced to flutter down, there was mist on the Bogong, and the afternoon was well advanced. As we toiled up a spur from which we saw the dim summit, a few hundred feet above, it was certain that we had no chance of gaining the top that day. It was with no feelings of regret that we turned back, for among Nature it is just as logical to fail as it is to win. Defeat is disliked only in material living, for there is personal humiliation, born of the competition for individual success, which does not exist in this simpler game in the hills. Hills are our associates, not our competitors.
We skied down from the Bogong on wide, steep declines, on which I disgraced myself by numerous falls. Dusk was near as we arrived on the edge of the Main Range, to be enclosed by a blue and infinite vista of hills, from the Snowy Plains to beyond the Yaouks. We sailed off, one by one, and before running into the timber I saw the usually erect Ede emulate a windmill. Her amusement, I believe, changed instantly when she raised a smashed ski, it's jagged tip waving loosely on steel edges. There was nothing but sympathy for her, for it is no happy prospect to founder home for many miles sinking to the knees at times, while the others ran smoothly. Really, it was not quite perfect for those with ski, at least for me, for in getting off that range, more time seemed to be spent in untangling my skis, arms and legs from deep down in the snow than in the expected vertical position. Long before we were off the snow ridge it was quite dark, and the weather had deteriorated. At nearly eight o'clock we saw, from a sleep-charged darkness, a warm glow from our hut window, and it was a soaked and steaming but happy party which squelched in to struggle over the stew which thoughtful Beryl and Esther had made in large quantities.
It is advisable to intersperse days of great activity with days of rest, in order to "catch up" on one's thoughts. This is indeed particularly desirable when one spends much time in skiing, for a quiet day walking or lazing on a grassy hill gives you an opportunity to absorb the pleasures of the previous days and prepares you for subsequent active days. It affords too, a happy contrast to the more determined procedure of ski running. Thus we spent the day after the Bogong trip merely enjoying the nearby greenery and accompanying the boys in a search for foxes. On the remaining days we went up the Gungarlin looking for new snow fields, for the river was now high with thaw and prevented our crossing to the usual fields. Saying goodbye to our friends was our first experience which was unpleasant, but we followed them some days later when we travelled to the hut lower down where we had spent the first night. We had arranged for transport a couple of miles from here at noon, and it proved, on Monday morning, that our plan to make two journeys instead of having a long one in the morning, was a wise one. Snow had fallen heavily during Sunday afternoon and evening, and our hut was surrounded by deep drifts. It required several hours of floundering in these to cover the two miles, on a wild and cold morning in which a powerful wind lifted the light fresh snow and blew it everywhere. Yet the snowy Plains presented an enchanting sight; white to the edge of the Gungarlin; its muzzlewood trees standing out in a vivid splash of green, silver and tan against an ultramarine sky. Just as we wanted to remember it: to keep our memories bright until we return – who knows when!
Footnote:
Office bearers of CMW at time of writing were:
President Mr G W Kenyon
Vice Presidents Messrs Ferris & Speirs
Secretary Miss D Ball
Treasurer Miss T Day
Recorder Mr L Turton
Social Secretary Miss J Kerr
(Article Copyright - Glover Collection)